Analyzing

complex

threats

to society's most critical infrastructure.
As companies digitize their operational equipment and bring technology online, the landscape for cyber security threats is expanding significantly to now include operational technology, or OT. Having visibility into this threat landscape and the potential impact on your company's specific industrial systems, helps you gain context into OT security risks. Obtaining insight into your company's individual vulnerabilities, enables you to prioritize issues and optimize risk management.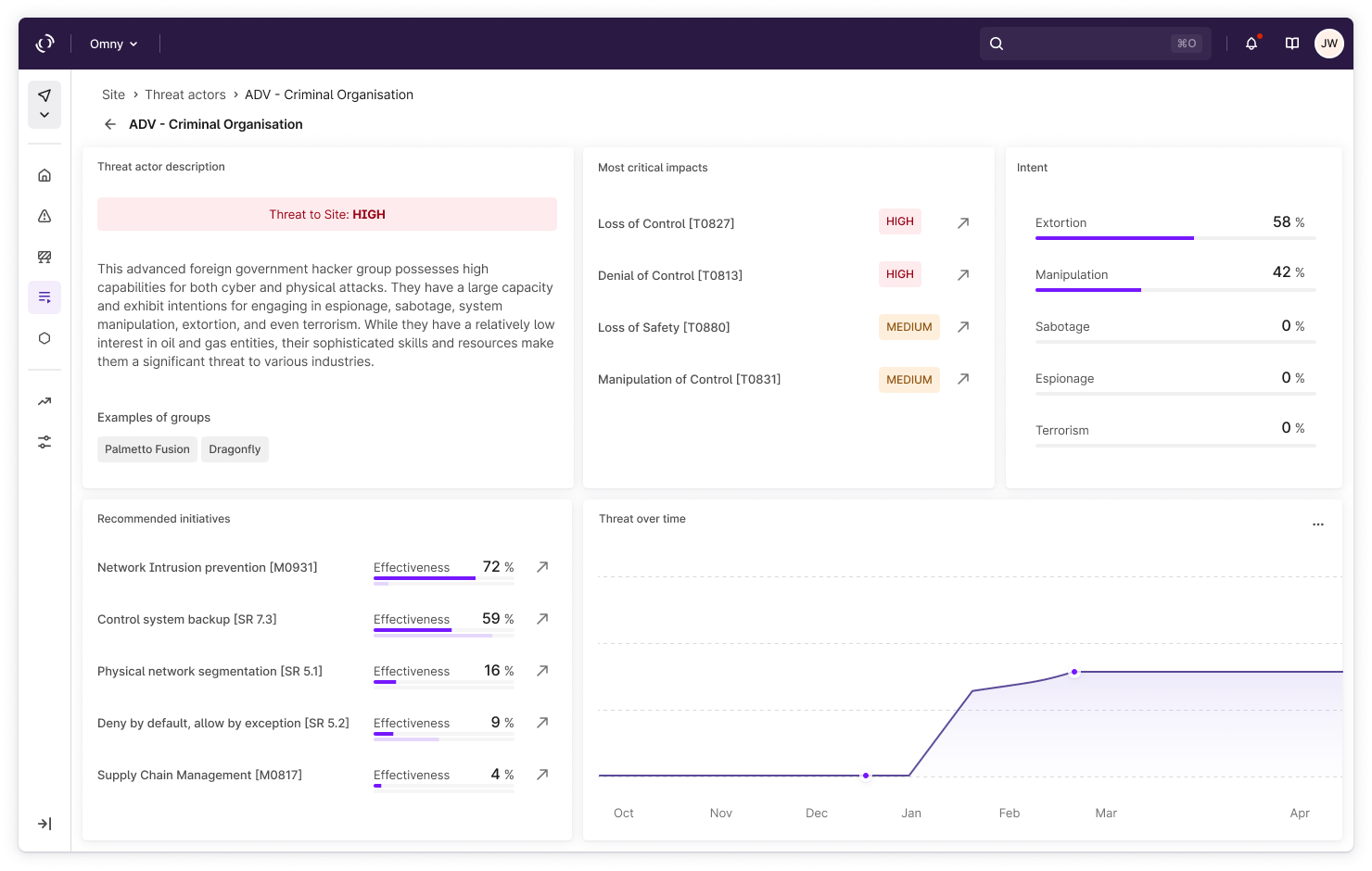 The Omny platform
Scaling

security

operations

to equip your business to make better decisions.

Gain full visibility into your company's cyber-physical assets, their operations, and the critical processes they perform. The Omny Platform provides organizations with a high-level understanding of operational and cyber risks to physical infrastructure, as well as the impact of a disruption. Built from industry and cyber security expertise, the Omny platform is an essential software for increasing operational resilience, taking control of cyber physical risk management and driving compliance to EU regulations (NIS2).
Safeguarding

critical infrastructure

for
top industries around
the world
Specializing in industrial security to safeguard critical infrastructure, Omny bridges the gap between advanced cyber threat intelligence and real-world solutions tailored for you
Your Security, Your Strength:
Navigating

industrial

landscapes

with confidence
As cyber threats become more advanced, all industries should take protective security measures to insure business continuity. Cyber awareness is a crucial start but heavy asset industries should take proactive measures to prevent disruptions from a cyber attack.
At Omny, we're focused on understanding your unique challenges across diverse industries and roles. Empowering your business to safeguard your infrastructure is our priority. Find peace of mind with Omny and gain increased insight into your own systems in order to strengthen your defenses, prioritize better and reduce asset risk. Partner with us to secure your industry's future.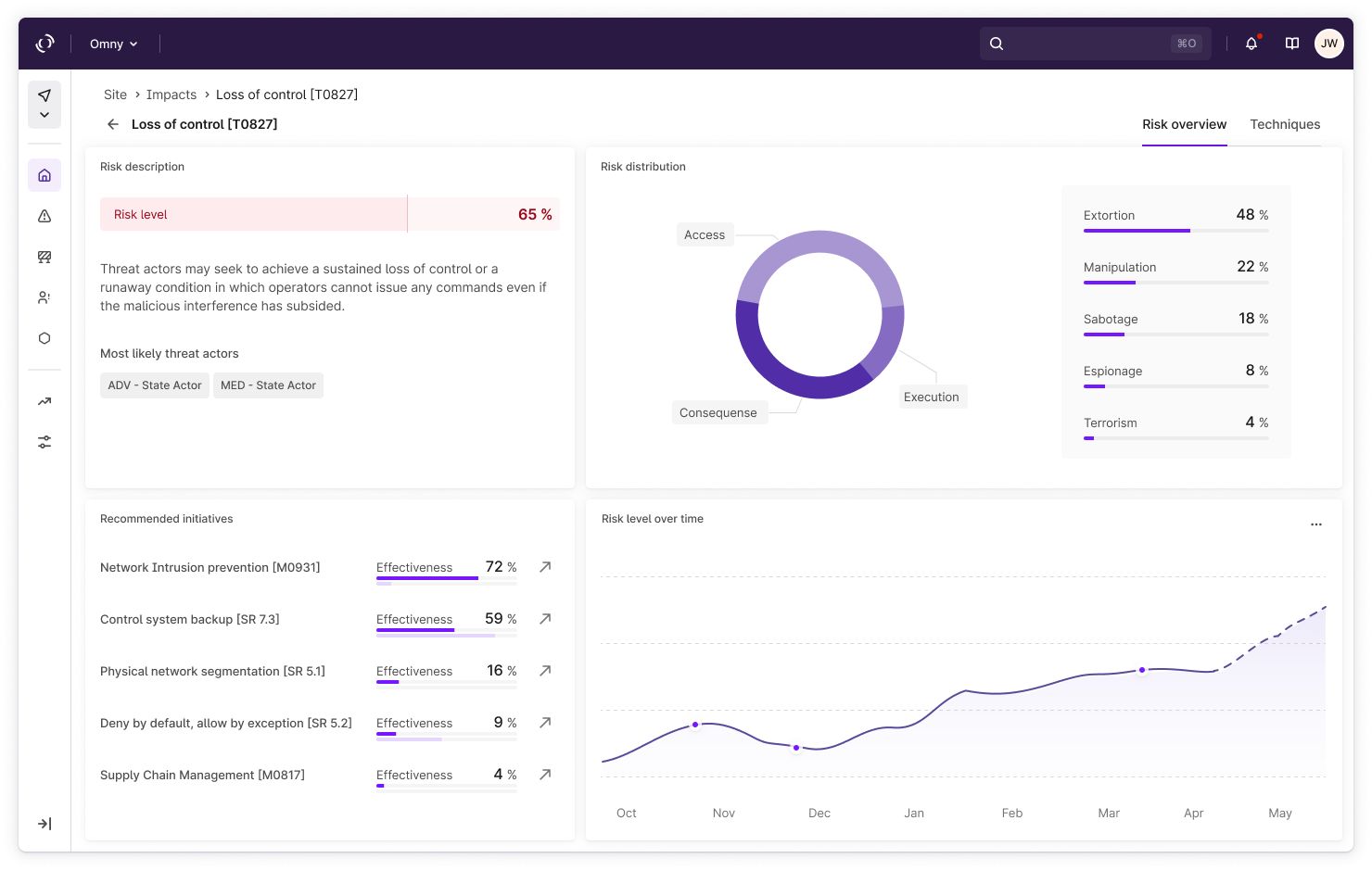 The Omny platform
Designed to provide cyber security insight for society's most critical infrastructure, the Omny platform enables strategic and operational decision-making for risk management with additional support available by a specialized advisory team for cyber and OT security. The Omny Platform has different applications to address your most pressing industrial concerns, Omny Risk and Omny Respond, paired with OT Advisory expertise to help you make the best cybersecurity decisions for your organization.
Omny Risk
Gain a holistic overview of your risk posture set against the ever-changing threat landscape. Evaluate risk level throughout the lifetime of an asset and across all your most valuable sites with this continuous dynamic risk analysis.
Omny Respond
Empower your security operations and incident response teams with an overview of cyber knowledge, including vulnerabilities, of your physical assets.


OT Advisory
Attain personalized guidance on the health of your current OT security environment. Let us evaluate your cyber architecture and assess the full risk of your company infrastructure.